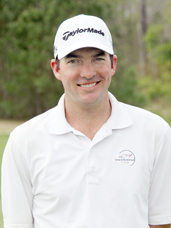 Dale Ketola - Instructor
Dale Ketola grew up in Greenwood, SC. He began playing competitive golf at the age of ten. At Emerald High School in Greenwood he was a four time All State performer. Dale played his college golf at Coastal Carolina University under the tutiledge of Donald Clement and Allen Terrell. He was a two time All Big South award winner and twice made the All Academic Team. Currently he is an active member in the Carolinas PGA Section and competes in numerous events.
After graduating from Coastal Carolina with a degree in Marketing, he achieved Class A Membership into the PGA of America in 2008. Dale has learned a tremendous amount about the golf swing and teaching from Andrew Rice at Berkeley Hall in Bluffton, SC.
Dale has almost eight years of teaching experience on the Grand Strand from his work at Bay Tree Golf Plantation and Pawleys Plantation. A simple common sense approach with an emphasis on impact and scoring has led to his success. He has taught a wide range of students over the years including juniors, ladies, high school, college players, as well as professionals.
Dale really enjoys learning more about the game through books, seminars, and watching other great teachers in action as he updates his own personal philosophy and methods. He has been using the V1 professional teaching software since 2004 in his teaching as he updates his swing library.