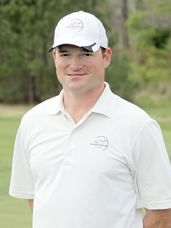 Chad Gibbs - Certified Instructor
Chad Gibbs brings a wealth of expertise to the Greg Norman Champions Golf Academy. Chad played competitive golf beginning at an early age. He started with junior tournament golf in Ohio and progressed to playing at the collegiate level at DePaul University. The sport is truly his passion, and it led him to a career in golf with an emphasis on teaching and coaching. He has a strong desire to work with golfers and coach them past their personal best.
During his development, Chad has worked closely with PGA Master Professional, Rick Martino (Golf Magazine Top 100 Instructor) and PGA Instructor, Joe Plecker (07' PGA Mid Atlantic Instructor of the Year). As an apprentice, Chad has learned from some of the best. Their influences have helped him develop his personal style of teaching. It is based on proper bio mechanics, fitness, and psychological enhancement. These are all tenets that coincide with the vision of Greg Norman. Chad is a PGA, Class A Professional, and is a member of the Carolinas Section.
Chad has seven years of teaching experience and works with a variety of students. He is able to teach players of every level. From teaching junior golfers the basics to training seniors with disabilities, he delivers quality individualized instruction. Chad relishes the opportunity to work with competitive juniors, college players, and tour players. He has an extensive knowledge of the latest technology. He guides his students using V1 and Tomi. And in the recent past, he has worked with the SAM PuttLab and Force Plates Technology.
Currently, Chad serves on the PGA Expert Staff for the "Tip of the Day" segment found on Yahoo Sports and PGA.com. He is also working with notable psychologist, Dr. David Watterson, on how to maximize individual potential using an extensive personality profile. The two are blending their expertise to unlock players' strengths and teach them how to manage their weaknesses.
Chad is a student of the game and continues to educate himself through cutting edge seminars and observing other top players and teachers.