Our Programs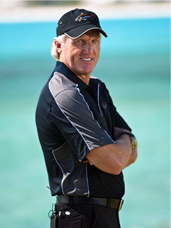 Greg Norman Champions Golf Academy
Greg Norman Champions Golf Academy was created to meet the needs of top golfers at every stage of their amateur and professional development.
The GNCGA is built on the professional playing career and instructional know-how of Greg Norman to provide a comprehensive development platform for golfers seeking to dramatically improve their ability to compete effectively and win.
GNCGA provides expert coaching and instruction based on a proprietary teaching methodology that effectively develops and reinforces proper fundamentals while integrating the individuality of each player's body and swing, with the state-of-the-art equipment.
Our aim is to provide golfers in the U.S. and abroad with an instruction program and training environment in which the ability to play collegiate and professional golf can be fully developed. By opening our doors to these young players, we can provide them with consistent, effective training based on direct experience of what it takes to compete and win at every level of the game.